Interview with the Winner of BTC 2020, Les
Date:
Tuesday, 12 October 2021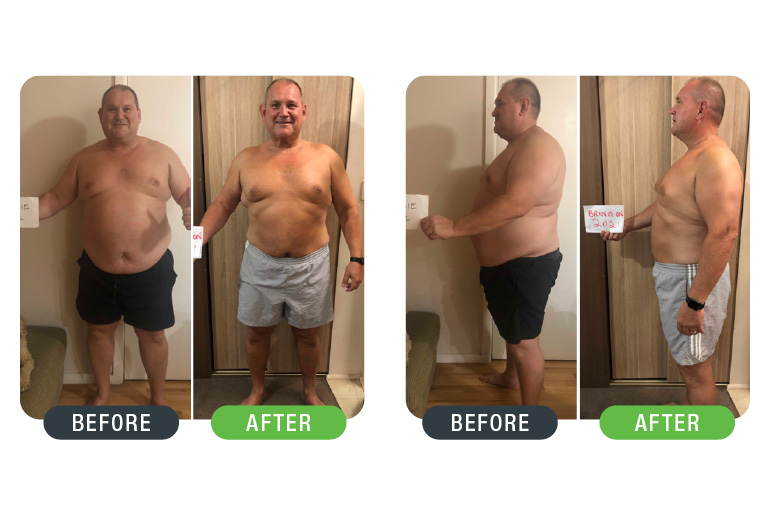 Why did you decide to enter the BTC?
I decided to enter the BTC because I've been struggling with my weight all my life. I've tried everything and had a lot of ups and downs. I was at Spectacular in Adelaide when they announced the BTC challenge and I thought to myself, I'm going to win this. I gave it a red-hot go, and yeah, I couldn't be happier about the challenge itself.
What did you enjoy most about the challenge?
I love the tips from all the coaches and everyone on the Facebook group sharing their little tips, from nutrition to exercise. The support there, I've never experienced anything like that before in my life and just couldn't be happier about the challenge and couldn't recommend it highly enough.
What made you keep coming back?
They kept announcing new challenges, so that kept me accountable. Because honestly, if there were no more challenges, or just the one challenge, I don't think I would have been where I am today. So yeah, I owe everything to the BTC, the challenges and Herbalife Nutrition.
So, run us through a typical day. What did you eat? What did you do? What Herbalife Nutrition products did you use?
Basically, using the Ultimate Program, I'd have two shakes, a couple of snacks, and a healthy balanced meal. I'd mix up the shakes, put my Active Fibre Complex and Formula 1 in there. I'd take the supplements and also drink the Instant Herbal Beverage, I'd use a two-litre bottle of water with that and then try to refill that with water, so I have four litres by 4pm. That doesn't always work out but that's my that's my goal. Keep it simple. It works for me.
What three things in the challenge specifically helped you?
Obviously, the products are second to none. Unbelievable. Nothing compares to Herbalife Nutrition products. The challenge itself, how it's ran with all the support, that would be another one. Then, I also got the family involved which put a bit of fun into it. So those three things and seeing my results along the way for sure.
What changes have you noticed, besides the physical ones?
My outlook on life is much more positive, I'm much happier and things don't get to me as much as they did before. You know, being 164kg, it was pretty hard to move around, and I wasn't really living life I was just existing. Now, the sky's the limit and it's only onwards and upwards from here.
Who should join the challenge and why?
Anybody really should join the challenge. Whether you've got weight to lose, you want to get healthier, you want to get fitter, it doesn't really matter. The overall result is going to be there just by sticking to good nutrition, getting a bit of exercise and some positivity in your life, and it'll be a flow on effect from there.
So, do you have any final words? About BTC, Herbalife Nutrition, or anything else?
Yeah, I'd just like to say if you're thinking about it or you're contemplating it, jump on, you're not going to regret it! And I'd like to thank the founder, the one who started everything, Mark Hughes. The genius and the vision behind everything, changing one life at a time, he's definitely changed mine so I'm forever grateful for that. I'd like to thank my coach Mina, without him getting me started, I wouldn't be here. And last, but by no means least, my wife. She stuck by me, she's seen me go through the ups and downs, and probably see me at my worst, but she hasn't seen me at my best yet. So, I'd love to just thank her for her love and support as well.
These results are not typical. Individual results will vary.
Before embarking on any physical activity, please consult your physician.